Holmes School Book of the Month (2018-2019)
The Holmes School Book of the Month is an on-going Interactive Read Aloud activity designed to build and deepen our community connections through conversations relating to high-quality children's literature. Each month, all classroom teachers at Holmes School will be reading the same book to their class in a engaging manner focused on high levels of comprehension. The books we have chosen for this purpose have excellent picture supports which encourage even deeper thinking about the text. As our children read and discuss these books with their teachers and classmates, we encourage you to have conversations with your children at home. We will also periodically be discussing these books at our Whole School Meetings.
Each month, look for the most current Holmes School Book of the Month on the bulletin board outside of the main office. A special "Thank you" to our "in house" bulletin board artist, Mrs. Gretchen Brown!
The books identified for the remainder of the year are listed here: Holmes School Book of the Month List 2018.2019
If you have any questions about the Book of the Month, please feel free to contact your child's teacher at any time.
April's Book of the Month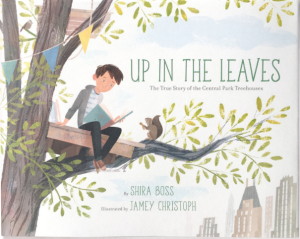 "Bob lived in the big city. The city was very crowded ."
A true story about Bob Redman, a New York City boy who built a series of intricate treehouses hidden in Central Park.
This picture book tells the true story of Bob Redman, a child growing up in New York City. Tired of the noise, the people, and the rushing around, Bob took shelter in the natural beauty of Central Park—where he covertly built a series of treehouses, starting with a simple platform and growing more and more elaborate over time. He played cat-and-mouse with the park workers, who kept tearing down his houses, until he was finally caught. But his story ends with a happy surprise . . .
Discussion guide prepared by the author Shira Boss
https://shiraboss.com/wp-content/uploads/2017/11/UpInTheLeaves_DGshort_HighRes.pdf